Answer
Preoperative evaluation includes chest radiography, computed tomography (CT) of the thorax, full pulmonary function testing, and, for some patients, ventilation-perfusion scanning and pulmonary angiography. [1, 15] CT provides detailed information on the location, size, and number of bullae, as well as on adjacent lung, pleural, and mediastinal structures (see the image below).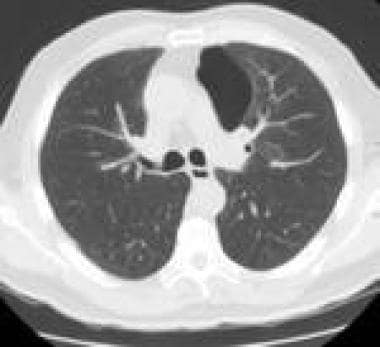 Computed tomography scan of chest showing bulla in left lung. Image courtesy of Richard Lazzaro, MD, New York Methodist Hospital.
Ventilation/perfusion lung scanning provides a functional assessment of the vascular and parenchymal integrity of the lung. Detailed cardiac evaluation is needed because many patients with chronic obstructive pulmonary disease (COPD) have associated heart disease. Medical therapy for COPD should be optimized. Smoking cessation and outpatient pulmonary rehabilitation are usually instituted for all eligible patients preoperatively. [1]
---
Did this answer your question?
Additional feedback? (Optional)
Thank you for your feedback!