Answer
After the initiation of cardiopulmonary bypass, the distal coronary bypass targets are identified. As a rule, anastomoses to the right coronary artery and the marginal branches of the circumflex artery are completed first.
The circumflex argery is accessed by retracting the heart laterally, whereas the posterior descending artery and posterolateral circulation are accessed by retracting the heart cephalically. The left internal thoracic (mammary) artery (LITA) is then usually anastomosed to the LAD if possible. In rare circumstances (eg, CABG performed for acute anterior myocardial infarction), a saphenous vein graft may be placed to the LAD artery for expediency.
To accomplish the bypass, an incision is made in the distal coronary artery, and the conduit ostium is sutured around the full circumference of the anastomosis (see the image below). The conduit is then infused with cold cardioplegia solution, and the end is tied with a polypropylene suture. A very fine monofilament suture, commonly 7-0 or 8-0, is used to complete the distal coronary anastomosis. Most often, it is an end-to-side anastomosis as shown in the picture below. Often, we can construct a side-to-side anastomosis when a sequential anastomosis was performed with the same conduit.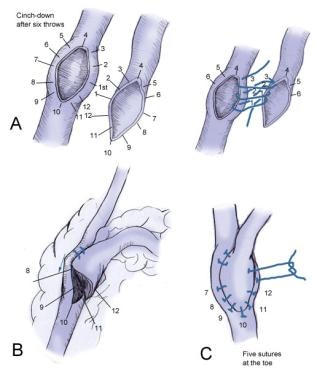 Illustration of the distal anastomotic technique.
When all the distal anastomoses are completed, rewarming of the heart is initiated, the aortic cross-clamp is removed, and a partially occluding clamp is placed on the ascending aorta where the grafts are to be anastomosed. Holes are punched in the ascending aorta, secured by the partially occluded clamp, and the proximal ends of the anastomoses are sutured into place in the aorta (see the image below). Before the cross-clamp is finally removed, air is evacuated from the grafts and ascending aorta. The patient is then weaned off the bypass.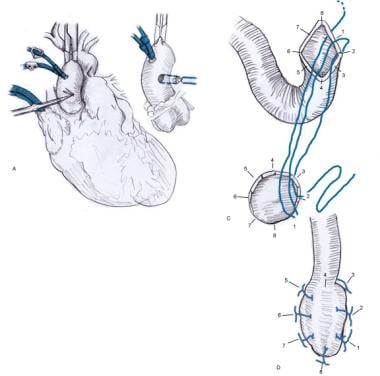 Illustration of the proximal anastomotic technique.
When normal rhythm is resumed, the patient is once again mechanically ventilated and electrolyte abnormalities (commonly hypomagnesemia and hypokalemia) are corrected. If the patient is bradycardic or experiences temporary heart block, temporary pacing is performed using wires placed to the right atrium and right ventricle. When cardiopulmonary bypass has been successfully stopped, protamine is given to reverse the heparin. [54]
---
Did this answer your question?
Additional feedback? (Optional)
Thank you for your feedback!