Answer
The great (long) saphenous vein (GSV) is located 2 cm anterior to the medial malleolus, traverses the tibia, and ascends posteriorly up the tibial border before emptying into the femoral vein. It receives numerous tributaries, notably at the knee, and contains 10-20 valves. Key associated structures are the saphenous nerve, femoral cutaneous nerve, and saphenous branch of the genicular artery. The small (short) saphenous vein (SSV) is located 1 cm posterior to the lateral malleolus, runs centrally up the posterior calf, and drains into the popliteal vein.
As coronary artery bypass grafting (CABG) conduits, the saphenous veins have an 80-90% early patency rate, which decreases to 50% at 10 years. The saphenous vein is generally acceptable as a conduit in the absence of other vascular pathologies in the leg (varicosities in the vein, venous insufficiency, previous deep vein thrombosis [DVT], or small lumen diameter) or overlying infection.
The GSV can be procured either via an open harvest technique (see the image below), starting from either the ankle or groin and using a vein stripper, or via an endoscopic technique. Likewise, the SSV vein can be harvested either with an open procedure or endoscopically.
Published experience comparing open vein harvest (OVH) with endoscopic vein harvest (EVH) suggests decreased wound-related complications, improved patient satisfaction, shorter hospital stay, and reduced postoperative pain at the harvest site following EVH. [50, 51, 52] Vein trauma is minimized by constant visualization, proper countertraction, and careful hemostasis.The available evidence predominantly confirms that EVH is no worse than OVH at short- and mid-term follow-up. [53]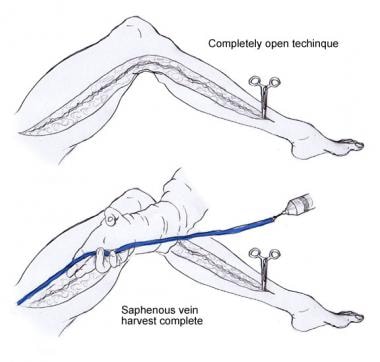 Illustration of the open saphenous vein harvest technique.
The legs and groin should be shaved, prepared, and draped in the operating room. Care should be taken to avoid getting skin preparation solution on the diathermy plate; this can result in diathermy burns. Once the anesthetist is ready for surgery to start and the surgeon has confirmed the number of lengths (25 cm) of vein required, the vein harvest can begin.
---
Did this answer your question?
Additional feedback? (Optional)
Thank you for your feedback!