Answer
Answer
The patient is positioned in full flank with the ipsilateral side (ie, side of the lesion) elevated with the umbilicus centered over the break in the table. An axillary roll is routinely placed to protect the dependent brachial plexus. The operating table is flexed, with or without elevation of a kidney rest, to widen the space between the iliac crest and the costal margin. See the image below.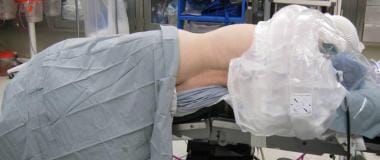 The patient is placed laterally and padded with the ipsilateral side up. A kidney rest can be elevated, the table is flexed, and the patient placed in slight-Trendelenburg.
The patient's back is positioned flush to the side operating table where the surgeon and assistant stand. Care is taken to secure the patient to the table using cloth or silk tape and ensure that all pressure points are padded circumferentially.
---
Did this answer your question?
Additional feedback? (Optional)
Thank you for your feedback!