Answer
Answer
A thorough history should be obtained, and a physical examination should be performed prior to any RLN procedure. Special attention should be given to the following historical factors: anticoagulation, uncorrected bleeding diathesis, other malignancies, truncal obesity, prior retroperitoneal surgery, radiation therapy, renal ectopy, pyelonephritis, nephrolithiasis, or abdominal aortic or iliac artery aneurysms.
In addition to routine examination of the patient's cardiovascular status, physical examination should note any palpable abdominal or flank tumor, as well as presence of any lymphadenopathy, peripheral edema, or varicocele.
Laboratory studies
Desired studies include CBC count, basic metabolic profile, coagulation studies, liver function tests, and urine analysis and culture.
Imaging studies
Axial and coronal imaging of the abdomen and pelvis may be obtained with either CT scanning or MRI. Three-phase imaging (defining the parenchyma, vasculature, and collecting system) with either iodinated contrast or gadolinium is useful in defining pertinent anatomy. See the image below.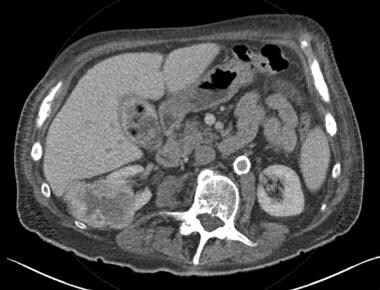 Axial CT imaging demonstrating a 7 X 5 X 5 cm enhancing mass in the interpolar region of the right kidney. This 86-year old patient underwent a retroperitoneal, laparoscopic right radical nephrectomy.
Thoracic imaging is useful as part of a metastatic evaluation and to define both cardiac and pulmonary issues that may affect the administration of general anesthesia. Nuclear bone scanning is reserved for patients with elevated alkaline phosphatase serum levels or for patients with specific sites of bony pain. Cerebral imaging is reserved for patients with neurological complaints or deficits.
---
Did this answer your question?
Additional feedback? (Optional)
Thank you for your feedback!