Answer
Anastomosis using stapling devices is the current standard for low anterior resection. Although a sutured anastomosis is technically feasible, a stapled anastomosis is more consistent and ergonomically superior, as well as being easier to teach and learn. Stapling is a skill, and adherence to the correct technique is essential for avoiding a catastrophic loss of joinable rectum inferiorly.
The colon is anastomosed to the rectum either as a straight colorectal anastomosis or as a colonic pouch–rectum anastomosis. The pouch is actually a short J pouch with a 6- to 8-cm limb; it owes its popularity to reports suggesting lesser stool frequency in the first year after surgery. The pouch can be constructed with a 80-mm linear cutter.
The pouch-rectum anastomosis is constructed with a circular stapler that can fire two rows of staples while dividing tissue centrally. The anvil of the circular stapler is secured at the apex of the colonic pouch with a purse-string suture. The stapler is introduced by an assistant through the anus.
The surgeon, with an eye and a hand on the rectal stump, guides the assistant in positioning the stapler safely and securely within the rectal stump. A dependable way of providing verbal guidance is to instruct the assistant to either drop his or her hands or pick them up so as to move the stapler accordingly.
At this point, the assistant advances the central spike to emerge either through the staple line of the rectum or close to it. The anvil is engaged onto the spike, and the stapler is closed to approximate the two components of the anastomosis. Before the stapler is fired, every care must be taken to ensure that no other structure—especially the vaginal wall—gets caught in between. After firing, the stapler is disengaged carefully, and only after it has been opened by 1.5 turns. The presence of two complete donuts confirms a complete anastomosis.
The anastomosis is evaluated by performing an air leak test after filling the pelvis with saline. Repair or a complete takedown and reanastomosis is indicated only in very large leaks. A small leak is taken care of with a proximal diversion. In the absence of a leak, the choice of diversion is trickier.
Centers with a high volume of low anterior resections are more selective in the use of proximal diversion. Most other surgeons routinely perform proximal diversion by means of a loop ileostomy. The loop ileostomy is closed after 6-8 weeks after the integrity of the anastomosis has been confirmed by means of a water-soluble contrast study. (See the image below.)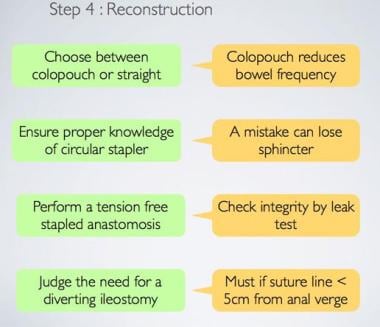 Total mesorectal excision: Reconstruction.
---
Did this answer your question?
Additional feedback? (Optional)
Thank you for your feedback!