Answer
A midline incision provides the best access to the the peritoneal cavity. Though the primary organ of interest is pelvic in location, the incision must be taken well into the upper abdomen in order to enable proper mobilization of the splenic flexure. This is an early step in the procedure, and a surgeon will not want to waste energy or time in trying to get the flexure down through a smaller and lower incision.
Exploration involves inspection of the liver, viscera, and peritoneum, as well as precise locoregional evaluation of the disease. At this stage, the surgeon will also prepare the field for the subsequent operation by placing self-retaining retractors to provide a good view of the pelvic and peritoneal cavity. The small bowel must be moved to yield a clear view of the left side of the peritoneal cavity and the pelvis. This can be achieved either by packing the bowel into the right and upper part of the peritoneum or by delivering it over the right hypochondrium and holding in a laparotomy pad. (See the image below.)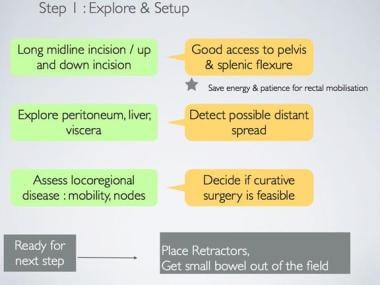 Total mesorectal excision: Exploration and setup.
---
Did this answer your question?
Additional feedback? (Optional)
Thank you for your feedback!