Answer
Colon resections (colectomies) are performed to treat and prevent diseases and conditions that affect the colon, such as colon cancer (see the image below). Colectomies are usually performed by general surgeons or colorectal surgeons. (See Benign or Malignant: Can You Identify These Colonic Lesions?, a Critical Images slideshow, to help identify the features of benign lesions as well as those with malignant potential.)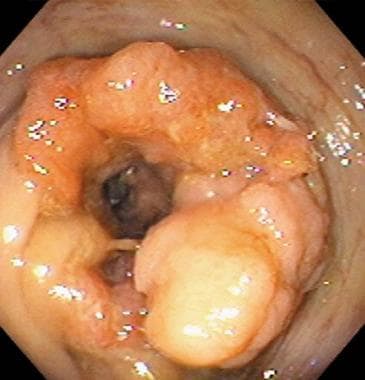 Colon cancer seen on colonoscopy.
For a better understanding of colon resections, it is important to have a thorough understanding of the terminology regarding these procedures.
A colectomy is a surgical procedure in which all or part of the large intestine is resected. The large intestine is the part of the alimentary tract that consists of the cecum, the ascending colon, the transverse colon, the descending colon, the sigmoid colon, and the rectum. For purposes of simplicity, the term colon is often used to refer to any of the components of the large intestine, save the rectum.
A colectomy that involves removing the entire colon is called a total colectomy. If most of the colon is removed, the procedure is called a subtotal colectomy. When a segment of the colon is removed, the procedure may be called a segmental colectomy, and it may be labeled a right or left colectomy (or hemicolectomy) to differentiate the right and left halves of the large intestine.
If the prefix "procto-" precedes the term colectomy (ie, proctocolectomy), the procedure involves the removal of the rectum in addition to the colon. Removal of only the rectum is referred to as a proctectomy.
Other terms used include low anterior resection (LAR), which classically refers to removal of the sigmoid colon and upper rectum and derives its name from the fact that the dissection is below the anterior reflection of the peritoneal lining. Although the rectum is anatomically distinct from the colon, many pathologic conditions and procedures related to the colon also involve the rectum. For this reason, surgical procedures involving the rectum (eg, abdominoperineal resection [APR]) have also been included in this article.
---
Did this answer your question?
Additional feedback? (Optional)
Thank you for your feedback!