Answer
Answer
Once the thyroid gland is identified, attention should be turned to a single lobe. Using the Richardson retractors and blunt dissection, capsular dissection should be carried to the lateral aspect of the thyroid lobe, where it meets the carotid sheath fascia. Once the lateral border of the dissection has been performed, the carotid artery identified, blunt dissection may be carried out superiorly.
At the superior pole, care should be taken to dissect the overlying strap muscles off of the thyroid gland without injuring the subcapsular vessels. Next, the cricothyroid space should be identified and dissected. By retracting the thyroid inferiorly and medially, and using a small Richardson retractor to retract the strap muscles superiorly and laterally, the surgeon can allow for maximal visualization of the superior pole of the thyroid. After dissecting both laterally and medially (cricothyroid space) to the superior pole, the superior pedicle can be divided using either a Harmonic scalpel, clips, or ties. Care should be taken to avoid injuring the external branch of the superior thyroid nerve.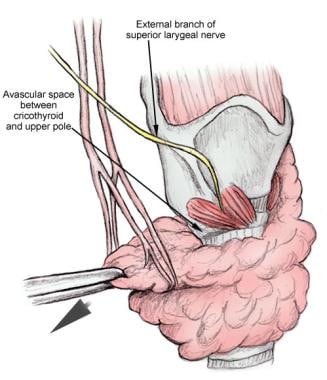 Cricothyroid space.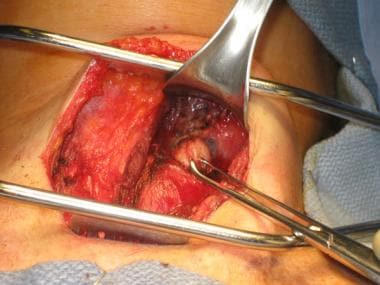 Exposure of the superior pole.
---
Did this answer your question?
Additional feedback? (Optional)
Thank you for your feedback!