Answer
Answer
The initial incision is made over the marked line as described in the preparation section. A #15 blade is used to incise through the epidermis and dermis. Using a Shaw scalpel or monopolar cautery, dissection is carried through the subcutaneous fat to the platysma. Once the level of the platysma has been identified along the length of the incision, the platysma is incised. Using the double-pronged skin hooks and the Shaw scalpel or monopolar cautery, subplatysmal flaps are elevated superiorly and inferiorly. After elevating the subplatysmal flaps, the Mahorner or alternative self-retaining retractor may be inserted. Care should be taken to not lacerate or damage the skin edges with the retractor.
The strap muscles (sternohyoid and sternothyroid) should then be identified. In the midline between the strap muscles, the cervical linea alba can be identified. Once identified, bluntly dissect through this fascia. The Harmonic scalpel or monopolar cautery can then be used to dissect through this fascia superiorly and inferiorly along the length of the sternohyoid muscle. In cases of large goiter or neoplasm, the strap muscles may be divided to aid exposure. Division of the strap muscles should be performed high (cephalad), as the innervation of the strap muscles occurs more inferiorly. Just deep to this dissection lies the thyroid gland, and overlying fascia should be easily identified.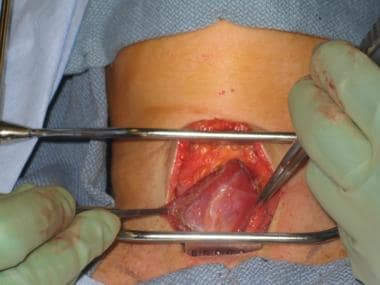 Cervical linea alba.
---
Did this answer your question?
Additional feedback? (Optional)
Thank you for your feedback!