Answer
Answer
Many experts contend that this method offers the best results. [20] The injection is made 24 hours before the surgery, with 10-15 MBq (0.3-0.4 mCi) of the appropriate Tc-99m-labeled radiopharmaceutical used in a volume of 0.2 mL. The Tc-99m tilmanocept dose is 0.5 mCi administered at least 15 minutes before initiating intraoperative lymphatic mapping. Do not delay mapping more than 15 hours after injection of Tc-99m tilmanocept.
A 25-G needle is used, and 0.2 mL of air bubble is drawn into the syringe behind the radiopharmaceutical. The air ensures that the whole radiopharmaceutical is injected and that none of the dose is left behind in the needle; it also minimizes the risk of spillage as the syringe is withdrawn, which can lead to false-positive and false-negative results.
The injection is made in the skin overlying the tumor, and the needle is inserted at an acute angle into the skin. Proper injection technique is confirmed by the appearance of a skin bleb at the injection site. (See the image below.)
Intradermal injection technique. Note that the needle tip is within the skin thickness and a bleb has formed on the skin. The cancer is represented by the black mass.
After the injection, dry cotton is applied over the injection site, and the site is sealed with an adhesive bandage. The patient is asked to massage over the injection site with dry cotton wool. This massage should continue for 1-2 minutes. (See the image below.)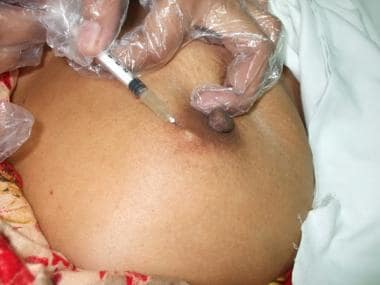 Intradermal injection technique. The needle is inserted at a very acute angle with the skin and the bleb forms when the radiocolloid is injected.
---
Did this answer your question?
Additional feedback? (Optional)
Thank you for your feedback!