Answer
Answer
The organization of dermatomes in the limbs is more complex than that of the dermatomal distribution in the trunk as a result of the limb buds and corresponding dermatomes being "pulled out" during early embryologic development.
The medial, intermediate, and lateral supraclavicular nerves from the cervical plexus supply the dermatomal distribution to the root of the neck, upper pectoral, deltoid, and the outer trapezius areas. The posterior divisions of the upper 3 thoracic nerves supply the region over the trapezius area to the spine of the scapula. The brachial plexus gives rise to most of the rest of the cutaneous innervation of the upper extremity.
Contrary to the considerable overlap of the dermatomes of the trunk, the overlap between the peripheral nerves of the limbs (upper and lower extremities) is far less extensive (see the following image). Thus, in the limbs, complete interruption of a single peripheral nerve typically produces changes in sensation that are, indeed, appreciated by a patient.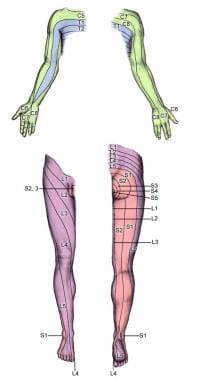 Dermatomes of the extremities.
Table 3 describes the upper extremity dermatomes.
Table 3. Dermatomes of the Upper Extremity (Open Table in a new window)
| | |
| --- | --- |
| Spinal Component | Skin Distribution |
| Third and fourth cervical nerves | Limited area of skin over the root of the neck, upper aspect of the pectoral region, and shoulder |
| C5 dermatome | Lateral aspect of the upper extremities at and above the elbow |
| C6 dermatome | The forearm and the radial side of the hand |
| C7 dermatome | The middle finger |
| C8 dermatome | The skin over the small finger and the medial aspect of each hand |
| T1 dermatome | The medial side of the forearm |
| T2 dermatome | The medial and upper aspect of the arm and the axillary region |
---
Did this answer your question?
Additional feedback? (Optional)
Thank you for your feedback!