Answer
Answer
The dermatomes of the trunk are relatively evenly spaced out; however, considerable overlap of innervations between adjacent dermatomes often occurs. Thus, a loss of afferent nerve function by one spinal nerve would not generally cause complete loss of sensation, but a decrease in sensation may be experienced.
Below, Image 2 depicts and Table 2 describes the trunk dermatomes.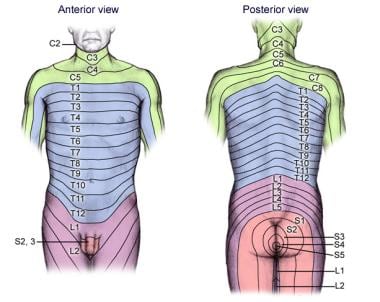 Dermatomes of the trunk and back.
Table 2. Dermatomes of the Trunk (Open Table in a new window)
| | |
| --- | --- |
| Spinal Component | Skin Distribution |
| T3 dermatome | Runs along the third and fourth interspace |
| T4 dermatome | Nipple line |
| T6 dermatome | At the level of the xiphoid process |
| T10 dermatome | Level of the umbilicus |
| T12 dermatome | Just above the hip girdle |
| Remaining thoracic spinal nerve dermatomes | Relatively evenly distributed between the above-mentioned thoracic dermatomes |
| L1 dermatome | The hip girdle and the groin/inguinal area |
---
Did this answer your question?
Additional feedback? (Optional)
Thank you for your feedback!