Answer
Surgical and perioperative management of congenital TEFs have improved significantly. Survival rates of 100% can be achieved in infants who do not have severe associated congenital anomalies.
In infants with proximal esophageal atresia and distal TEF, morbidity after primary repair appears to remain high. In a retrospective study of data from 292 infants who underwent primary repair, there was an overall 6% mortality, mainly related to the presence of congenital heart disease, and a 62% postoperative complication rate. [8] Moreover, the use of empiric postoperative antibiotics for longer than 24 hours showed no difference in rates of infection, shock, or death relative to their use for a shorter period, and empiric acid suppression did not necessarily prevent complications.
Surgical outcomes of primary repair in extremely and very low-birth-weight infants with type C esophageal atresia and distal TEF (most common type; upper esophageal segment ends in a blind pouch while the lower esophageal segment attaches to the trachea via a TEF) appear to be similar to those of neonates weighing 1500 g or more. [9] Staged repair may be restricted to unstable neonates.
Overall survival in patients with H-type TEF (see the image below) without esophageal atresia (ie, congenital isolated TEF) appears to be good, with a multicenter retrospective reporting a 97% overall survival and a 16% in-hospital complication rate (excluded vocal cord issues; the main complication was postoperative leak [8%]) in 102 patients. [10] However, there was a high postrepair rate of recurrent laryngeal nerve injury (22%), which the investigators indicated probably not only warrants early vocal cord evaluation in any infants with postoperative respiratory difficulty but also routine evaluation of postrepair vocal cord function in this type of TEF. [10]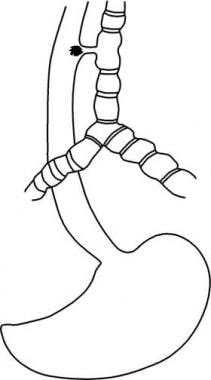 Tracheoesophageal fistula. H-type of tracheoesophageal fistula.
Patients may develop morbidities following TEF repair, including tracheomalacia, esophageal dysmotility, gastroesophageal reflux, and dysphagia. Use of a transanastomotic tube has been associated with higher rates of stricture, and interposition of prosthetic material has associated with higher leak rates. [8] Additionally, patients may develop pulmonary problems from recurrent aspiration.
Patients with acquired TEFs have high mortality and morbidity rates because of critical illnesses and comorbidities.
---
Did this answer your question?
Additional feedback? (Optional)
Thank you for your feedback!