Answer
Answer
The muscle and graft interface is then closed. Drains are placed in the inferior space between the mastectomy flap and the graft, as well as in the axillary and superior subcutaneous planes (see the images below). [29]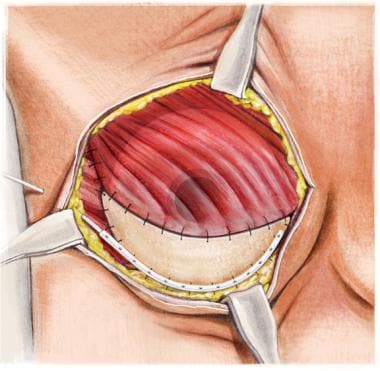 Tissue expander is placed in submuscular and subgraft space, and opposing muscle and graft are secured with suture. Drains are placed in space between graft and mastectomy flaps.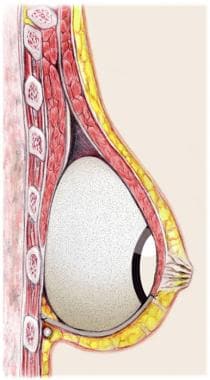 Lateral view of expander beneath muscle and graft.
Antibiotic irrigation is employed to rinse the operative pocket and the implants throughout the procedure. After complete coverage of the expander or implant has been accomplished, the expanders are carefully inflated according to the degree of skin excess, which ultimately determined by the surgeon. In non–nipple-sparing cases, limiting expansion to a maximum of two thirds of the expected final volume may minimize the possibility of mastectomy flap necrosis. [1, 12]
---
Did this answer your question?
Additional feedback? (Optional)
Thank you for your feedback!