Answer
Answer
Two small retractors are then placed in the incision and the fundus identified. Army-Navy retractors (see the image below) are firmer and easier to manipulate, but in some instances, such as when the subcutaneous layer is thicker, small S-shaped retractors may be more effective.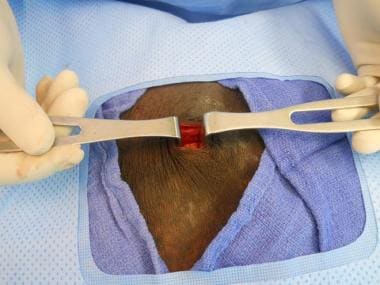 Using the Army-Navy retractors.
Using the 2 retractors, one operator then pulls the surgical opening in the direction of the adnexa, whereas the second operator is prepared to grasp the fallopian tube once visualized with a Babcock clamp. If visualization is difficult, lateral tilting the patient toward the opposite side may help. If omentum or bowel is obscuring visualization, small, moistened laparotomy packs (see the following image) may be placed through the incision with Singley forceps using a sweeping motion over the fundus to displace bowel and omentum cephalad. These packs should be tagged.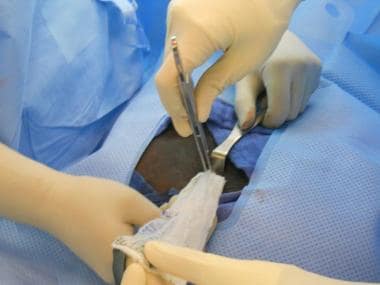 Packing with a small laparotomy sponge.
Once the fallopian tube is visualized, it is carefully grasped with the Babcock clamp and gently elevated through the incision, as shown in the image below. The tube should then be followed to its fimbriated end in a stepwise fashion with either another Babcock clamp or the Singley forceps to ensure that the correct structure has been identified.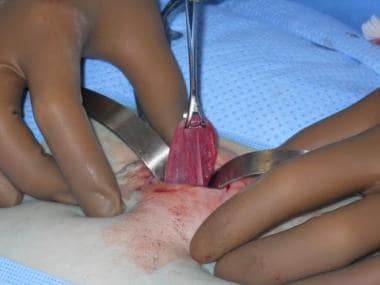 Elevation of the fallopian tube through the incision.
---
Did this answer your question?
Additional feedback? (Optional)
Thank you for your feedback!