Answer
Answer
After the patient has been surgically prepped and draped and adequate anesthesia has been confirmed, a 2-3 cm infraumbilical semilunar or vertical incision is made. Elevating the skin with Allis clamps may help accomplish this (see the following image).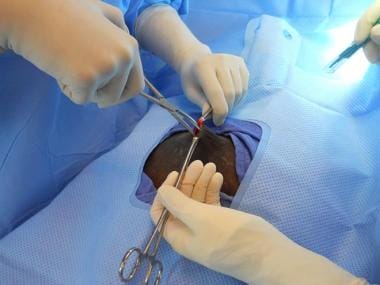 Entering the abdomen.
Further dissection through the subcutaneous tissue may be done with a Kelly clamp or hemostat down to the level of the fascia. Once visualized, the fascia is grasped and elevated with 2 Kelly or Kocher clamps and incised with Mayo scissors. The opening in the fascia should be approximately the same size as the skin incision. The underlying parietal peritoneum is then grasped with 2 hemostats, elevated and cut with Metzenbaum scissors.
---
Did this answer your question?
Additional feedback? (Optional)
Thank you for your feedback!