Answer
Answer
Because most of the lesions detected during screening are impalpable, subsequent needle biopsy must be image-guided. Ultrasonography-guided biopsy is usually the most straightforward approach, but lesions better seen on mammography images, particularly microcalcifications, require stereotactic localization.
The principles of localization involve mapping the distance between the geometric center of the breast with the target lesion in two different planes and then projecting the coordinates onto the patient's breast (see image below).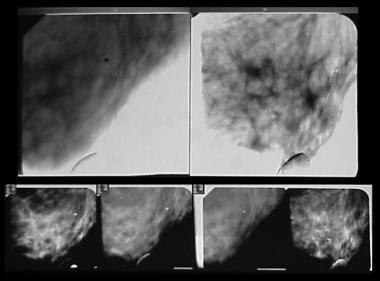 Stereotactic images obtained during a prone-table biopsy procedure.
Earlier techniques in stereotaxis used mammographic projections to localize the target lesion within the breast. Advances in digital mammography have since superseded manual computations. Dedicated stereotactic equipment that performs localization with fixation of the breast is now in use (see image above). [8, 9, 10, 11] Stereotactic techniques have also been developed within other imaging modalities, including ultrasonography and magnetic resonance imaging (MRI). These techniques offer more options and greater flexibility in performing stereotactic biopsy.
Digital tomosynthesis creates a three-dimensional (3-D) picture of the breast using x-rays. It has been approved by the US Food and Drug Administration (FDA), but it is not yet considered the standard of care for breast care screening and is only available in limited hospitals. It takes multiple x-ray pictures of each breast from many angles. The breast is positioned in the same way as conventional mammography but with limited pressure. The x-ray tube moves in an arc around the breast while numerous images are taken within a few seconds. The information is then relayed to a computer, which generates highly focussed 3-D images throughout the breast.
In 2013, Hologic Inc launched the world's first 3-D breast biopsy option "Affirm 3D". The procedure can be of benefit in targeting lesions that cannot be easily detected on two-dimensional (2-D) imaging or when using other modalities. It is claimed to also target lesions faster and reduce patient procedure time.
---
Did this answer your question?
Additional feedback? (Optional)
Thank you for your feedback!