Answer
Answer
Intravitreal injection with anti-vascular endothelial growth factor (anti-VEGF) therapy has become the criterion standard for treatment of choroidal neovascular membranes (CNVs) associated with age-related macular degeneration (AMD or ARMD). [1, 2] Treatment options in wet AMD include bevacizumab (Avastin, Genentech, San Francisco, CA), which is a full-length anti-VEGF antibody; ranibizumab (Lucentis, Genentech), which is an affinity-matured fragment; pegaptanib (Macugen, OSI/Eyetech Inc.); aflibercept (Eylea, Regeneron, Tarrytown, NY), another anti-VEGF trap; and brolucizumab (Beovu; Novartis Pharmaceuticals Corp, East Hanover, NJ), a single-chain Fv antibody fragment. [3, 4, 5, 6] With the exception of bevacizumab, which is used on an off-label basis, all of the other aforementioned drugs are FDA approved for AMD.
The image below illustrates wet age-related macular degeneration.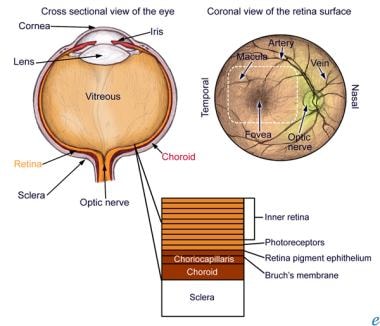 Wet age-related macular degeneration (ARMD).
---
Did this answer your question?
Additional feedback? (Optional)
Thank you for your feedback!