Answer
Answer
Most often, the radiographic diagnosis of compression fracture is made by using plain-film radiographs of the spine (see image below). MRI is essential in identifying cord compression as a consequence of a posteriorly displaced or retropulsed bone fragment. MRI findings are most informative in evaluating the spine at the levels where the spinal cord is present (eg, from the cervical spine through the second lumbar vertebra). CT is the most sensitive means of identifying a linear fracture through the posterior vertebral cortex. [7, 8, 9, 10]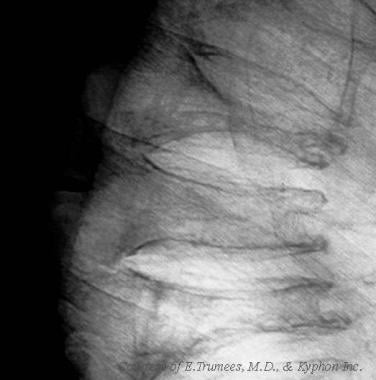 This image was obtained in an 80-year-old man with a steroid-induced osteoporosis and a painful acute midthoracic vertebral compression fracture. Several additional chronic fractures are also present.
Nuclear medicine bone scanning is helpful in assessing metastatic disease and when pain is elicited on palpation at levels other than where a fracture is radiographically identified. The required imaging studies at Temple University Hospital include CT evaluation for fractures of the lumbar spine and both CT and MRI for fractures of the cervical and thoracic spine. Post procedural imaging of the treated levels is not considered cost effective and therefore infrequently obtained.
---
Did this answer your question?
Additional feedback? (Optional)
Thank you for your feedback!