Answer
Answer
In 1984, vertebroplasty was first successfully performed in France for the treatment of a cervical vertebral hemangioma (see image below). [1]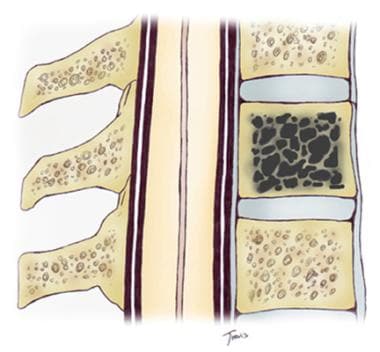 In a vertebral hemangioma, the fine trabeculae are replaced by venous channels, which predispose the patient to painful microfractures.
Since then, the application of vertebroplasty and kyphoplasty has expanded to include the treatment of the intense pain caused by vertebral compression fractures (see image below) that is refractory to conventional therapies such as analgesic use, bed rest, and bracing. Vertebroplasty may also be applied prophylactically to an at-risk vertebra between 2 other abnormal vertebra.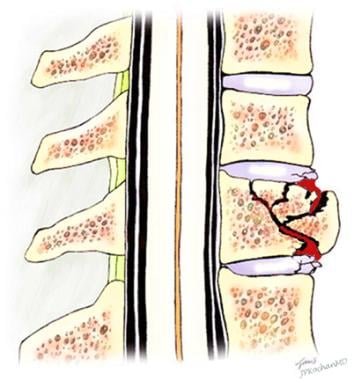 Anterior wedge compression fracture with intact posterior vertebral cortex.
Vertebroplasty and kyphoplasty involve the injection of an acrylic cement under local anesthesia and either fluoroscopic guidance or, less commonly, CT guidance to control the pain of vertebral fractures associated with osteoporosis, tumors, and trauma (see image below). Typically, vertebroplasty is performed in an outpatient setting, while kyphoplasty typically requires hospital admission. Pain reduction or elimination is immediate, and the risk of complications is low. Neither vertebroplasty nor kyphoplasty is intended for the treatment of intervertebral disc disease or arthritis. [2]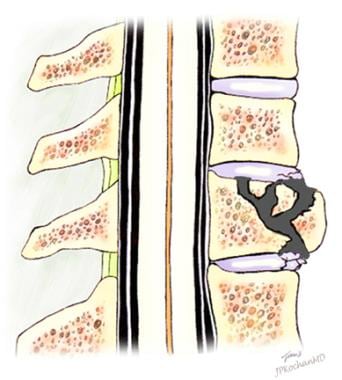 Anterior wedge compression fracture after fusion of the fracture fragments with methylmethacrylate.
Vertebroplasty is a treatment for pain. Theoretically, 2 mechanisms may account for the pain reduction associated with the injection of methylmethacrylate. The first mechanism may be as a result of acrylic fusion of the fragments into a single block, preventing the painful motion of the individual fracture fragments against each other. The second mechanism of pain reduction may be related to the heat produced by the polymerization process as the acrylic hardens. An added benefit is that deposition of acrylic within the vertebra significantly strengthens osteoporotic bone, reducing the likelihood of repeat fracture.
Vertebroplasty does not restore the height of the compressed vertebral body. A related procedure, kyphoplasty, is intended to restore lost height by inflating a balloon tamp within and between the fracture fragments prior to the infusion of methylmethacrylate. The procedures result in similar relief of pain due to vertebral compression fractures.
---
Did this answer your question?
Additional feedback? (Optional)
Thank you for your feedback!