Answer
The cranial lesions observed on CT scans are typically bilateral and are classified into two general categories: (1) well-defined, slitlike, low-attenuation foci involving the basal ganglia, particularly the putamen, and (2) larger regions of low attenuation in the basal ganglia, thalamus, or dentate nucleus.
Widening of the frontal horns of the lateral ventricles and diffuse cerebral and cerebellar atrophy, which correlate histologically with widespread neuronal loss, have also been described. (See the image below.)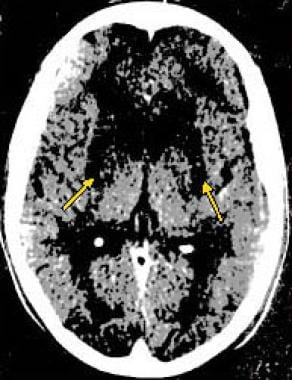 Computed tomography (CT) scan in a 15-year-old boy who presented with central nervous system findings consistent with Wilson disease. The CT scan reveals hypodense regions in the basal ganglia (caudate nucleus, putamen, globus pallidus). The differential diagnosis based on this image alone included leukodystrophy, vasculitis, and, less likely, infection. Ventricular enlargement and posterior fossa atrophy may also be seen on brain CT scans in a patient with Wilson disease. The extent of involvement as depicted on CT scans does not provide prognostic information.
---
Did this answer your question?
Additional feedback? (Optional)
Thank you for your feedback!