Answer
Radiolabeled copper testing directly assays hepatic copper metabolism. Blood is collected at 1, 2, 4, 24, and 48 hours after oral ingestion of radiolabeled copper (64 Cu or67 Cu) for radioactivity in serum. In all individuals, radioactivity promptly appears after absorption, followed by hepatic clearance. In healthy people, reappearance of the radioactivity in serum occurs as the labeled copper is incorporated into newly synthesized ceruloplasmin and released into the circulation.
Heterozygotes exhibit a slow, lower-level reappearance of radioactivity rather than the continued fall in radioactivity seen in persons with Wilson disease, but there may be considerable overlap between the two types of patients. Patients with Wilson disease, even those with normal ceruloplasmin levels, do not exhibit the secondary rise in radioactivity.
An algorithm for the diagnosis of Wilson disease adapted from the American Association for the Study of Liver Diseases (AASLD) Practice Guidelines is outlined below.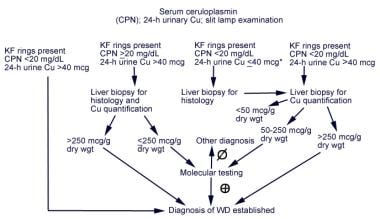 Approach to the diagnosis of Wilson disease (WD) in a patient with unexplained liver disease. KF = Kayser-Fleischer ring; CPN = ceruloplasmin. From the American Association for the Study of Liver Diseases Practice Guidelines.
---
Did this answer your question?
Additional feedback? (Optional)
Thank you for your feedback!