Answer
Answer
Paddle/pad placement for the cardioversion of atrial fibrillation may vary, and the evidence suggests that placement is not a critical factor in the success of conversion. [13] However, anterolateral placement of the pads when conducting the initial shock appears to be more effective when utilizing biphasic defibrillators. In the event of postcardioversion bradycardia in which external pacing is required, non-apical pad placement may not capture the myocardium.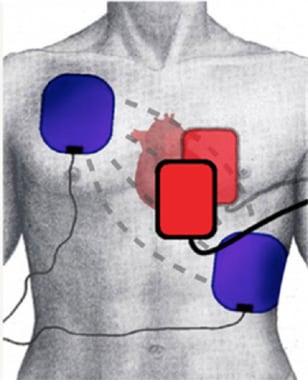 Common anatomic placements for the pads or paddles. The red pads represent the anteroposterior position. The blue pads represent the anterolateral position.
---
Did this answer your question?
Additional feedback? (Optional)
Thank you for your feedback!