Answer
Answer
Jitter measurements performed during voluntary activation of the muscle are less subject to technical problems that can lead to misinterpretation of the results. However, this technique requires more patient cooperation than stimulation jitter studies.
As the patient slightly contracts the muscle, the SFEMG electrode is inserted into the muscle near the endplate zone; it is positioned to record 2 or more time-locked APs from the same motor unit (see images below).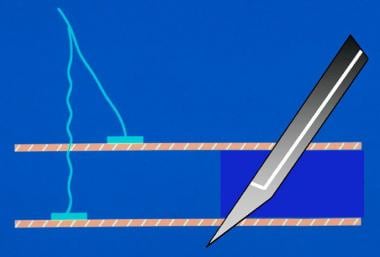 Recording position of the single-fiber electromyography electrode during jitter analysis with voluntary muscle activation. The electrode is positioned to record action potentials (APs) from 2 muscle fibers that are innervated by the same motor nerve fiber.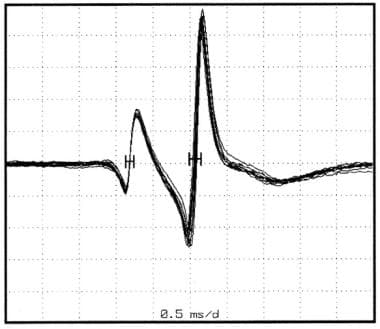 Single-fiber electromyography. Action potentials recorded from 2 muscle fibers with normal jitter during voluntary muscle activation. Ten consecutive discharges are superimposed. The oscilloscope is triggered by the rising portion of the first potential, which falls at the same position with each discharge. The second potential falls at slightly varying positions among successive discharges, demonstrating the neuromuscular jitter.
---
Did this answer your question?
Additional feedback? (Optional)
Thank you for your feedback!