Answer
Answer
Axonal stimulation
Stimulation jitter studies are particularly useful in the following cases:
In patients who have difficulty maintaining constant voluntary activation of the muscle

In patients who have a tremor

In children who are too young to cooperate

When controlling the firing rate precisely is desirable, as when assessing the effect of firing rate on jitter
The motor nerve may be stimulated proximally to its entry into the muscle, or individual motor nerve branches may be stimulated within the muscle (see image below).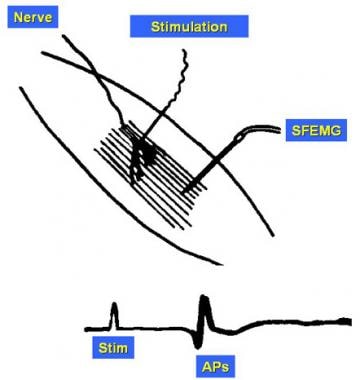 Electrode setup for single-fiber electromyography (SFEMG) during intramuscular axonal stimulation. The stimulating electrode is inserted into the muscle near an intramuscular nerve fiber, and the recording electrode is inserted distally near muscle fibers innervated by this nerve. During repetitive stimulation of the nerve, the latency between stimulus and action potentials (APs) varies among successive responses (ie, the neuromuscular jitter).
The former technique is ideal for activating facial muscles, since individual branches of the facial nerve can be stimulated with a monopolar needle electrode, which is inserted through the skin anterior to the ear.
If a surface electrode is used for stimulation, many motor units usually are activated, making identifying the responses of single muscle fibers difficult.
Some artifactual jitter may be introduced by variations in the intensity of the stimulus that reaches the individual motor nerve fibers, especially when surface stimulation is used.
---
Did this answer your question?
Additional feedback? (Optional)
Thank you for your feedback!