Answer
Answer
Scar tissue, as shown in image below, generally appears as a low-signal-intensity, linear irregularity with variable enhancement, which largely depends on the interval since treatment. In the first few months after surgery, the borders of the surgical cavity may have strong enhancement, particularly if hemorrhage or fat necrosis has occurred.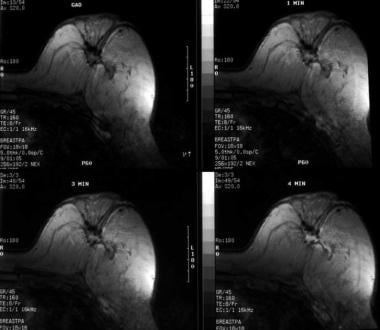 Postoperative scarring and delayed enhancement. Unlike the previous example, this patient's scar enhances weakly and slowly. This finding is typical as the scar ages. The previous surgery was performed because of a malignancy; no tumor was found at repeat excision of the scar.
This reactive enhancement gradually subsides. At 6 months after surgery without radiation therapy, most cases show slow, minimal, or no enhancement. In such cases, the appearance of abnormal enhancement at the scar after 6 months should raise the suspicion of a recurrent malignancy. [72] Again, tiny ferromagnetic, hypointense, sucker-tip and instrument artifacts may be evident at the site of surgery, particularly if the native, unsubtracted GRE images are reviewed.
---
Did this answer your question?
Additional feedback? (Optional)
Thank you for your feedback!