Answer
Answer
Juvenile papillomatosis is an uncommon condition seen in young women. It may produce an appearance of multiple masses with marked distortion on mammograms. On MRI, this may appear as a network of enhancing, beadlike nodules that are connected by enhancing ducts. Alternatively, they may appear as a lobulated, enhancing mass with small internal cysts.
(See the image below.)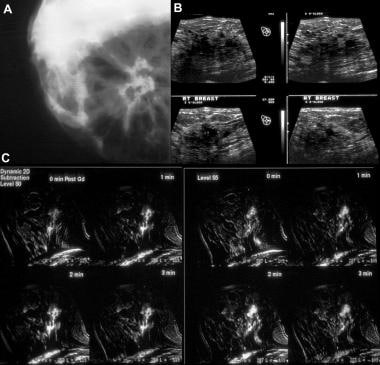 Juvenile papillomatosis. This young woman presented with vague thickening in the right breast. A, Mammogram shows a large poorly defined area of bizarre architectural distortion in the medial right aspect of the breast on this coned compression view. B, Sonograms show a large area of poorly defined, irregular, hypoechoic change with multiple ill-defined rounded hypoechoic lesions. C, MRIs show that these masses interconnected nodular enhancing lesions with lobulated boundaries. Surgical excision confirmed juvenile papillomatosis.
---
Did this answer your question?
Additional feedback? (Optional)
Thank you for your feedback!