Answer
Answer
Papillomas are typically isointense on T1W images and isointense to slightly hyperintense on fat-suppressed T2W images. They enhance rapidly with contrast and can show variable delayed kinetics. High-resolution ultrasonography may be useful to determine whether the lesion is intraductal.
(See the image below.)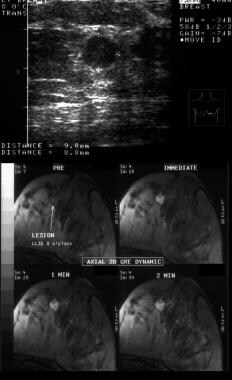 Breast papilloma. This nodule was detected at screening mammography. A, Sonogram shows a well-defined, rounded, hypoechoic nodule that is almost as tall as it is wide; this is suggestive of malignancy. Needle biopsy yielded papillary tissue. B, Dynamic contrast-enhanced MRI shows a rapidly enhancing, smoothly marginated, rounded nodule; this is similar to a malignancy, except for relatively weak and prolonged enhancement. The nodule still had good enhancement 10 minutes after the injection. Results of surgical excision biopsy confirmed a breast papilloma.
---
Did this answer your question?
Additional feedback? (Optional)
Thank you for your feedback!