Answer
Answer
These lesions may be associated with tubular carcinoma, other invasive carcinoma, DCIS, LCIS, and ADH. They have variable MRI appearances and can present as an MRI-occult lesion, mass, architectural distortion, or nonmass enhancement. The enhancement characteristics are also variable.
(See the images below.)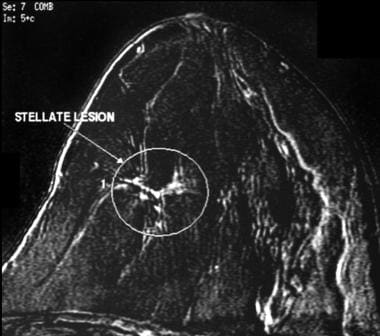 This lesion is seen as a stellate, modestly enhancing lesion on MRI, without a central mass. Excision biopsy showed only a radial scar, with no evidence of malignancy.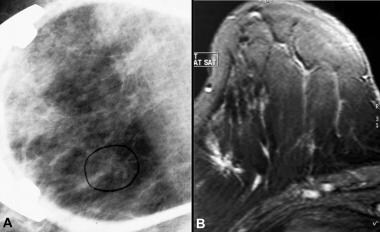 A, Image in a patient with a focal irregular nodule on spot compression mammography. B, MRM of this lesion shows a stellate, irregular, strongly enhancing nodule that is indistinguishable from a malignancy. Results of surgical excision confirmed a radial scar with no evidence of malignancy. Capillary microvascular density measurements in the specimen from this lesion showed a marked increase in capillary density, consistent with neoangiogenesis.
---
Did this answer your question?
Additional feedback? (Optional)
Thank you for your feedback!