Answer
Answer
In acute infectious mastitis, conventional assessment is usually sufficient, and MRI has a limited role. The main differential diagnosis is inflammatory carcinoma. If MRI is performed for the assessment of infections, strong, rapid enhancement may be present, usually with a poorly defined regional or diffuse pattern.
Granulomatous mastitis is a rare inflammatory condition that may mimic acute infectious mastitis or invasive breast cancer. It is usually idiopathic, but it may be caused by various mycobacteria or Actinomyces species. It has also been described in association with sarcoidosis and Wegener granulomatosis. The patient experiences recurrent bouts of breast sepsis, with formation of sinus tracts that may discharge purulent material. Cultures of the material are usually negative, and biopsy shows granulomatous inflammation.
(See the image below.)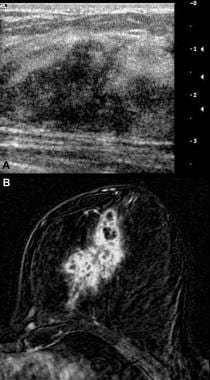 Granulomatous mastitis. This young woman presented with recurrent episodes of breast inflammation with sinus tracts that drained sterile pus. A large area of induration was detected clinically. Mammography showed a large area of poorly defined increased density. A, Sonogram shows a large area of poorly defined hypoechoic masslike change. During the examination, this was seen to be medial. B, Subtraction dynamic gadolinium-enhanced MRI scan shows a large area of bizarre, irregular, intense enhancement with multiple nonenhancing areas; these represent small abscesses. Biopsy with ultrasonographic guidance confirmed the diagnosis, with no microorganisms grown on cultures.
MRI shows areas of strong, irregular enhancement around fluid-filled pockets. MRI can be useful in mapping the full extent of disease in this condition. This mapping helps in planning and monitoring therapy for this condition, which is notoriously difficult to treat. Surgery or corticosteroid therapy is the treatment of choice.
---
Did this answer your question?
Additional feedback? (Optional)
Thank you for your feedback!