Answer
Answer
Fibroadenomas have varied MRI appearances. They typically appear as circumscribed, oval masses and are isointense or hypointense on T1W images. On T2W images, the signal intensity depends on the amount of myxoid (bright) and fibrous (dark) tissue within the mass. They may have dark internal septations. Postcontrast enhancement varies with the cellularity and sclerosis of the mass.
When fibroadenomas are hyalinized (usually in older women), they generally enhance more slowly and weakly. Densely hyalinized fibroadenomas show minimal or no enhancement. Larger fibroadenomas may appear moderately bright on T2W precontrast imaging, whereas almost 90% of larger carcinomas have a signal intensity lower than that of normal parenchyma. [61]
(See the images below.)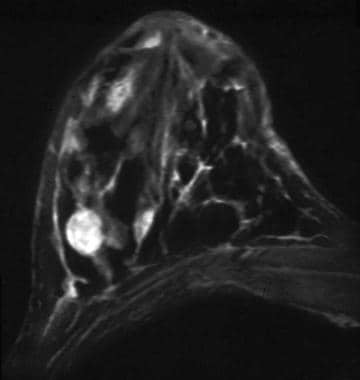 Fat-suppressed delayed contrast-enhanced image shows a fibroadenoma as a strongly enhancing, sharply marginated, ovoid nodule in the lateral aspect of the right breast. This patient was undergoing images for a carcinoma elsewhere in the same breast. Findings at subsequent ultrasonography and needle biopsy of this lesion were typical for a fibroadenoma.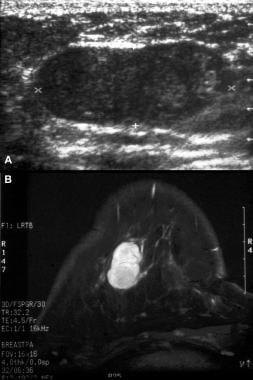 A, Sonogram shows a large fibroadenoma (proven at core biopsy) with typical ultrasonographic characteristics. B, Delayed axial MRI shows an ovoid, strongly enhancing, smoothly marginated nodule with nonenhancing internal septa.
---
Did this answer your question?
Additional feedback? (Optional)
Thank you for your feedback!