Answer
Answer
Normal nipples usually show a smooth thin rim of enhancement and are symmetrical bilaterally.
The normal nipple may enhance intensely and rapidly. Retroareolar ducts may enhance normally, though usually not as intensely. These changes can make the interpretation of nipple enhancement problematic in cases of malignancy, especially in the subareolar area.
(See the image below.)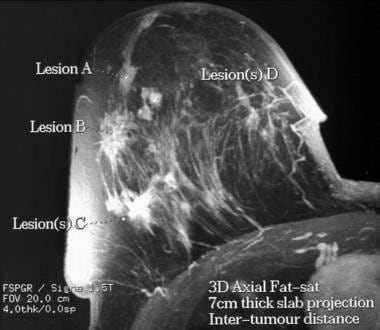 3D thick-slab maximum intensity projection (MIP) MRI shows 4 lesions with ductal enhancement extending to the retroareolar region. Lesions A, B, and C were in a line, with lesion D lying higher and more central. All lesions and the retroareolar ductal enhancement were confirmed to be malignant at mastectomy.
In contrast, the areola does not normally enhance, and it appears only slightly thicker than adjacent skin; this characteristic permits the detection of areolar infiltration by a malignancy. Comparison with the contralateral side may be helpful, as shown in the image below. Asymmetrical enhancement in the presence of DCIS may indicate the presence of nipple involvement, even in the absence of clinically obvious Paget disease.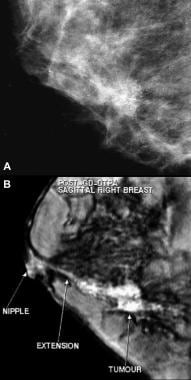 Invasive ductal carcinoma detected with screening mammography. A, Detailed mammography shows this as a stellate mass with suspicious microcalcifications. However, no microcalcifications are seen extending to the nipple. B, MRI shows intense enhancement in the tumor and in an expanded duct, which extends to the nipple. The nipple enhancement is within normal limits. Histology confirmed ductal carcinoma in situ (DCIS) extending to, but not involving, the nipple and areola.
---
Did this answer your question?
Additional feedback? (Optional)
Thank you for your feedback!