Answer
Answer
A dedicated double breast surface coil is essential, because it permits simultaneous high-resolution and high-quality imaging of one or both breasts. Such a coil is shown in the image below.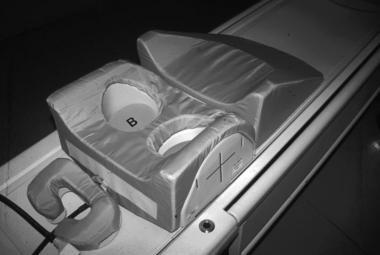 Typical double-breast MRI coil. This is an older phased-array design. A major limitation of this coil is the closed design; MRI-guided breast interventions cannot be performed with this coil.
A phased-array design is considered ideal today. Sixteen channel coils have recently been introduced. Newer designs are open on the sides, permitting access during hookwire localization and needle biopsy.
The patient lies prone, with both breasts freely suspended in the coil. A symmetrical coil platform design gives the patient the option of entering the magnet bore feet first or head first. Because of claustrophobia concerns, it may be preferable to perform these studies with the patient entering feet first.
---
Did this answer your question?
Additional feedback? (Optional)
Thank you for your feedback!