Answer
Answer
Indications for breast MRI in a diagnostic setting include the following:
Evaluation of extent of disease in a patient with recently diagnosed breast cancer (multifocal or bilateral disease).

Evaluation of invasive lobular carcinoma. [20]

Characterization of an indeterminate lesion after a full assessment with mammography, ultrasonography, and physical examination.

Detection of occult primary breast carcinoma in the presence of carcinoma in axillary lymph node or metastatic adenocarcinoma of unknown origin.

Monitoring of the response to neoadjuvant chemotherapy.

Evaluation in postoperative patients with positive margins.
(See the image below.)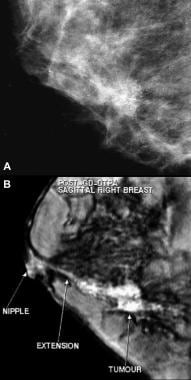 Invasive ductal carcinoma detected with screening mammography. A, Detailed mammography shows this as a stellate mass with suspicious microcalcifications. However, no microcalcifications are seen extending to the nipple. B, MRI shows intense enhancement in the tumor and in an expanded duct, which extends to the nipple. The nipple enhancement is within normal limits. Histology confirmed ductal carcinoma in situ (DCIS) extending to, but not involving, the nipple and areola.
---
Did this answer your question?
Additional feedback? (Optional)
Thank you for your feedback!