Answer
Answer
The breast was one of the first organs studied with MRI for the detection of cancer, albeit initially in vitro. [14] The breast was also the first organ in which the detection of invasive tumor neovascularity was highlighted through the application of rapid serial imaging after an injection of contrast agent.
With the clinical application of nonenhanced breast MRI, the value of T1-weighted (T1W) and T2-weighted (T2W) spin-echo imaging rapidly became clear, through the analysis of characteristics such as lesion morphology, signal intensity, and tissue relaxation times.
It also became clear that the T2 relaxation rates of benign tissues and malignant tissues overlap [15] and that in situ cancers could not be reliably detected at all. The development of a dedicated breast coil, rapid 2D gradient-echo (GRE) imaging, high field strength (>1T) magnets that enabled spectral fat-suppression, new methods of k-space filling to increase resolution and speed, and bolus injection of gadolinium dimeglumine created the technique of dynamic contrast-enhanced breast MRI. This technique showed an extremely high sensitivity for breast malignancy, higher than conventional methods of breast imaging.
Although dynamic contrast-enhanced breast MRI was initially limited to a single section location, it was soon modified with newly developed multisection, spoiled GRE sequences. This thin-section dynamic contrast-enhanced technique formed the foundation of modern breast MRI. MRI-guided breast biopsy and localization methods have been developed to investigate abnormal areas seen on breast MRI.
(See the image below.)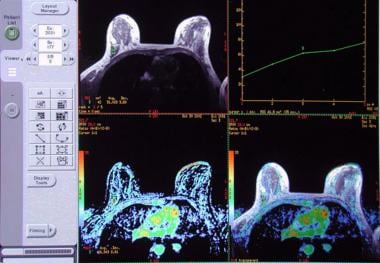 Typical parametric color mapping software used to map the rate of contrast enhancement on a series of dynamic images acquired at the same locations over a period of time. By arbitrary convention, red and yellow represents faster and more-intense enhancement, while blue and green represent slower and weaker enhancement.
---
Did this answer your question?
Additional feedback? (Optional)
Thank you for your feedback!