Answer
Although many patients prefer mild dyskinesia to off time, the clinician should recognize that dyskinesias can be sufficiently severe to be troublesome to the patient, either by interfering with activities or because of discomfort. Asking patients how they feel during both off time and time with dyskinesia is important in titrating medication optimally. Having patients fill out a diary may be helpful; the diary should be divided into half-hour time periods on which the patient denotes whether they are off; on without dyskinesia; on with non-troublesome dyskinesia; or on with troublesome dyskinesia (see the following image). The goal of medical management is to minimize off time and time on with troublesome dyskinesia. Stated another way, the goal is to maximize on time without troublesome dyskinesia.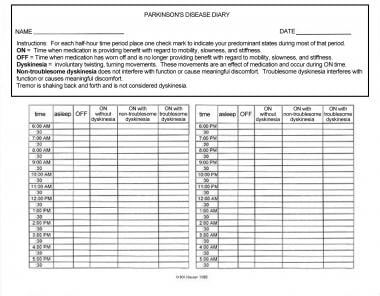 Parkinson disease diary. The patient or caregiver should place 1 check mark in each half-hour time slot to indicate the patient's predominant response during most of that period. The goal of therapeutic management is to minimize off time and on time with troublesome dyskinesia. Copyright Robert Hauser, 1996. Used with permission.
---
Did this answer your question?
Additional feedback? (Optional)
Thank you for your feedback!