Answer
Classic pathologic findings in Parkinson disease include degeneration of the neurons containing neuromelanin, especially in the substantia nigra and the locus ceruleus. Surviving neurons often contain eosinophilic cytoplasmic inclusions called Lewy bodies (see the following image). The primary biochemical defects are loss of striatal dopamine, which results from degeneration of dopamine-producing cells in the substantia nigra, as well as hyperactivity of the cholinergic neurons in the caudate nucleus.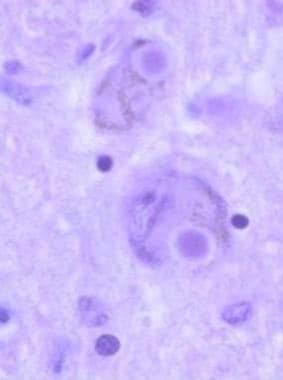 Lewy bodies are intracytoplasmic eosinophilic inclusions, often with halos, that are easily seen in pigmented neurons, as shown in this histologic slide. They contain polymerized alpha-synuclein; therefore, Parkinson disease is a synucleinopathy.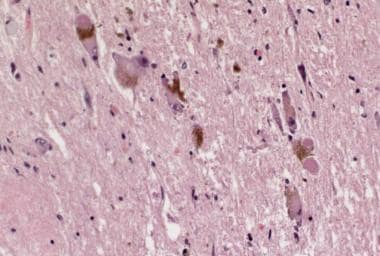 Lewy bodies in the locus coeruleus from a patient with Parkinson disease.
---
Did this answer your question?
Additional feedback? (Optional)
Thank you for your feedback!