Answer
Magnetic resonance imaging (MRI) is useful to exclude strokes, tumors, multi-infarct state, hydrocephalus, and the lesions of Wilson disease. MRI should be obtained in patients whose clinical presentation does not allow a high degree of diagnostic certainty, including those who lack tremor, have an acute or stepwise progression, or are younger than 55 years.
The following MRI indicates where a thalamic stimulator is typically placed.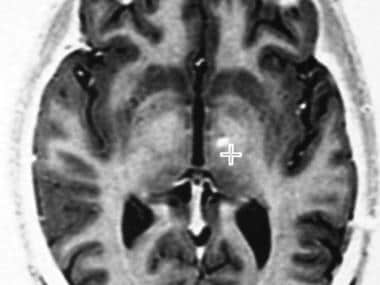 Axial, fast spin-echo inversion recovery magnetic resonance image at the level of the posterior commissure. The typical target for placing a thalamic stimulator is demonstrated (cross-hairs).
Below is a coronal MRI following bilateral subthalamic nuclei deep brain stimulation.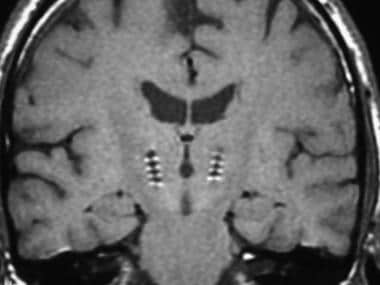 Postoperative coronal magnetic resonance image (MRI) demonstrating desired placement of bilateral subthalamic nuclei-deep brain stimulation (STN-DBS) leads.
---
Did this answer your question?
Additional feedback? (Optional)
Thank you for your feedback!