Answer
Parkinson disease is predominantly a disorder of the basal ganglia, which are a group of nuclei situated at the base of the forebrain. The striatum, composed of the caudate and putamen, is the largest nuclear complex of the basal ganglia. The striatum receives excitatory input from several areas of the cerebral cortex, as well as inhibitory and excitatory input from the dopaminergic cells of the substantia nigra pars compacta (SNc). These cortical and nigral inputs are received by the spiny projection neurons, which are of 2 types: those that project directly to the internal segment of the globus pallidus (GPi), the major output site of the basal ganglia; and those that project to the external segment of the globus pallidus (GPe), establishing an indirect pathway to the GPi via the subthalamic nucleus (STN).
For an illustration of the subthalamic nucleus, see the image below.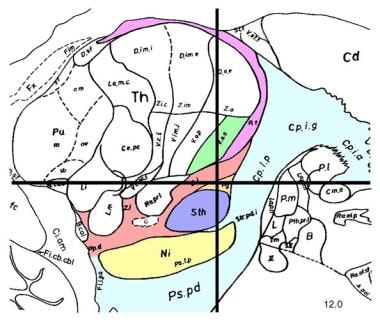 Sagittal section, 12 mm lateral of the midline, demonstrating the subthalamic nucleus (STN) (lavender). The STN is one of the preferred surgical targets for deep brain stimulation to treat symptoms of advanced Parkinson disease.
The actions of the direct and indirect pathways regulate the neuronal output from the GPi, which provides tonic inhibitory input to the thalamic nuclei that project to the primary and supplementary motor areas.
---
Did this answer your question?
Additional feedback? (Optional)
Thank you for your feedback!