Answer
Parkinson disease is recognized as one of the most common neurologic disorders, affecting approximately 1% of individuals older than 60 years. There are 2 major neuropathologic findings: the loss of pigmented dopaminergic neurons in the substantia nigra pars compacta (SNpc) and the presence of Lewy bodies (see the following image). Most cases of Parkinson disease (idiopathic Parkinson disease [IPD]) are hypothesized to be due to a combination of genetic and environmental factors. However, no environmental cause of Parkinson disease has yet been proven. A known genetic cause can be identified in approximately 10% of cases, and these are more common in younger-onset patients.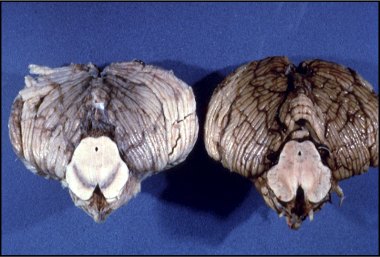 Gross comparison of the appearance of the substantia nigra between a normal brain and a brain affected by Parkinson disease. Note the well-pigmented substantia nigra in the normal brain specimen on the left. In the brain of a Parkinson disease patient on the right, loss of pigmented substantia nigra due to depopulation of pigmented neurons is observed.
---
Did this answer your question?
Additional feedback? (Optional)
Thank you for your feedback!