Answer
Parkinson disease (PD) is one of the most common neurologic disorders, affecting approximately 1% of individuals older than 60 years and causing progressive disability that can be slowed, but not halted, by treatment. The 2 major neuropathologic findings in Parkinson disease are loss of pigmented dopaminergic neurons of the substantia nigra pars compacta and the presence of Lewy bodies and Lewy neurites. See the images below.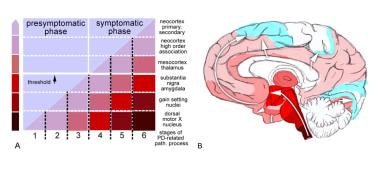 Stages in the development of Parkinson disease (PD)-related pathology (path.). Adapted from Braak H, Ghebremedhin E, Rub U, Bratzke H, Del Tredici K. Stages in the development of Parkinson's disease-related pathology. Cell Tissue Res. 2004 Oct;318(1):121-34.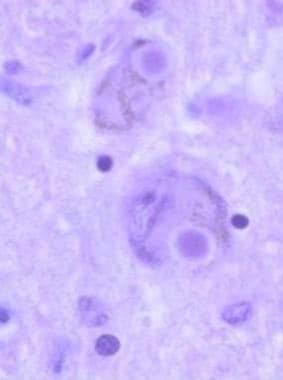 Lewy bodies are intracytoplasmic eosinophilic inclusions, often with halos, that are easily seen in pigmented neurons, as shown in this histologic slide. They contain polymerized alpha-synuclein; therefore, Parkinson disease is a synucleinopathy.
---
Did this answer your question?
Additional feedback? (Optional)
Thank you for your feedback!