Answer
Answer
The incision is then deepened by means of a coagulation diathermy device. [8] Subdermal veins will be encountered that must be coagulated.
Littlewoods or skin hooks are applied to the superior flap, and the assistant lifts the superior flap (see the image below). Flaps should always be lifted straight up, perpendicular to the chest wall. Sufficient tension should be maintained during lifting to ensure that the flap is the same thickness throughout and to prevent buttonholing.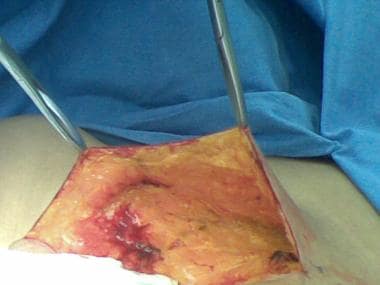 Superior flap being raised.
With the diathermy device held parallel to the flap, the breast tissue is dissected away from one end of the incision to the other. There is no specific anatomic landmark that defines the depth of the dissection. However, if the flaps are approximately 5-10 mm thick, a bloodless plane becomes evident, representing the transition zone between subcutaneous tissue and breast tissue. If the wrong plane is used, bleeding will be heavy while the flap is raised.
The dissection is deepened to the pectoralis major, with care taken to coagulate vessels as they are encountered (see the image below) so as to minimize blood loss during the operation. It is important always to identify the limits of the dissection before starting to dissect the breast off the chest wall. The medial limit is the lateral border of the sternum, the lateral limit is the anterior border of the latissimus dorsi, the superior limit is the second rib, and the inferior limit is the inframammary crease.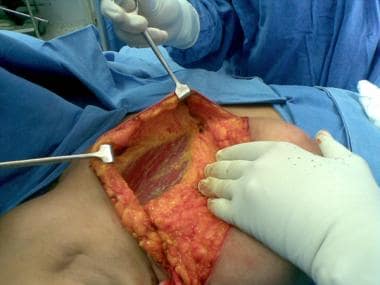 Raised superior flap, with breast being dissected off underlying pectoralis major.
This process is repeated for the lower flap, proceeding from the medial end to the lateral end. Toward the lateral end of the dissection, a Littlewoods forceps is placed on the superior flap and another on the inferior flap, close to the lateral angle of the incision. The dissection is deepened until the anterior border of the latissimus dorsi (the lateral limit of the dissection) is identified.
With the skin envelope raised completely, the next step is to lift the breast off the pectoralis major. Langenbeck retractors may be used to retract the flaps, starting at the medial angle. A perforating branch of the internal mammary artery is commonly encountered here; it should be coagulated with the diathermy device before it retracts. The breast is then lifted off the muscle, with care taken to ensure that all the perforators along the way are coagulated (see the image below).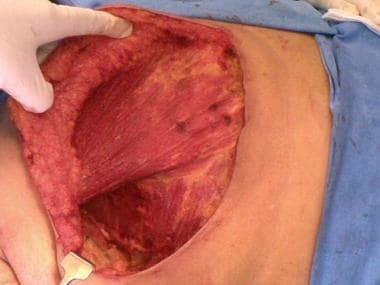 Pectoralis major and serratus anterior visible at completion of mastectomy.
At the lateral end of the dissection, the superior limit of the breast tissue as it approaches the axilla is the first intercostal nerve.
---
Did this answer your question?
Additional feedback? (Optional)
Thank you for your feedback!