Answer
Answer
The surgical principles underlying simple mastectomy have a long history. First defined in ancient Egyptian literature, mastectomy was systematically detailed in 1882 by Halsted, who advocated a radical extensive procedure that involved excision not only of the breast but also of the underlying pectoral muscles and axillary lymph nodes. [1] This operation was associated with poor cosmesis and significant impairment of shoulder movements.
For decades, this operation was the only treatment of breast cancer. Gradually, it became clear that an extensive local procedure did not necessarily translate into a marked improvement in patient survival. Accordingly, surgeons began experimenting with less radical procedures, and various modifications of the radical mastectomy were developed. A National Surgical Adjuvant Breast Project study from 1977 showed that the cure rate for the Halsted operation was no higher than that for a simple mastectomy. [2]
A simple mastectomy involves removing the breast along with an ellipse of skin that encompasses the nipple-areola complex. Unlike a radical mastectomy, it does not involve removal of the underlying muscles and uninvolved lymph nodes (see the images below).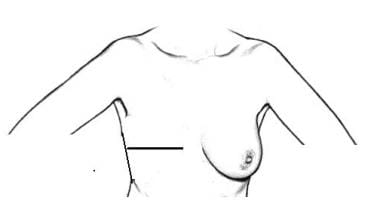 Postmastectomy scar.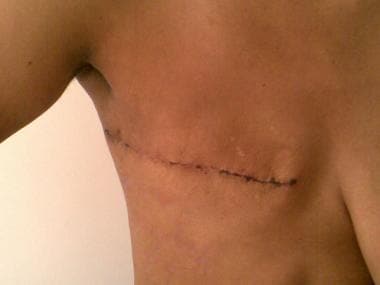 Mastectomy scar 10 days after operation.
As medical knowledge of tumor biology has grown, surgeons have come to realize that combining surgical treatment with adjuvant treatments such as chemotherapy, radiotherapy, hormone therapy, and immunotherapy allows better control of the cancer and results in higher disease-free survival and local recurrence rates. Breast-conserving surgery, the safety of which has been proven in randomized controlled trials, is another surgical option for selected patients.
A study by Al-Himdani et al comparing patient characteristics and outcomes between individuals who underwent skin-sparing mastectomy (SSM) and those treated with simple mastectomy found that the 8-year local breast cancer recurrence rates for SSM versus simple mastectomy were 7.9% and 5%, respectively. With regard to SSM, the investigators also found that patients were younger on average and that lymph nodes were less often involved (22% vs 44%), while the frequency of ductal carcinoma in situ was greater (79% vs 53%). SSM patients also more often had involved margins (29% vs 15%). The study included 577 patients, 80% of whom underwent simple mastectomy and 20% of whom were treated with SSM. [3]
---
Did this answer your question?
Additional feedback? (Optional)
Thank you for your feedback!