Answer
Answer
Wire-guided excision is performed for impalpable abnormalities. The radiologist inserts a wire either through or in close proximity to the abnormality. For lesions visible on ultrasonography, the wire is inserted under ultrasonographic guidance. [13] For those that are not visible on ultrasonography, this is done under stereotactic control.
The wire can be inserted up to a day prior to the actual surgery. After inserting the wire, another mammogram is taken and used as a guide during surgery.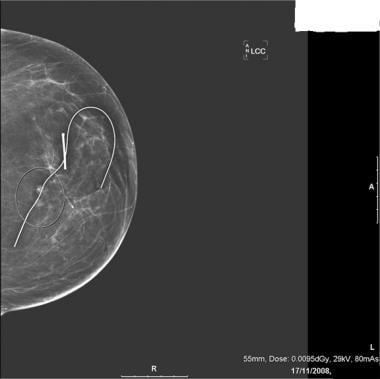 Lumpectomy. Wire through the lesion as seen on confirming mammogram for lumpectomy.
In the operating room, the surgeon removes the dressing over the wire and determines the sitting of the incision, which is based on the spatial orientation of the lesion according to the original and confirming mammograms. The incision is generally placed close to the entry point of the wire if it is just anterior to the lesion.
If the entry point of the wire is at a distance from the actual position of the lesion, then the incision is made closer to the lesion. Once the skin flaps are raised, the wire is pulled through the skin into the wound.
Once the lesion is excised, a radiograph is obtained to ensure complete excision.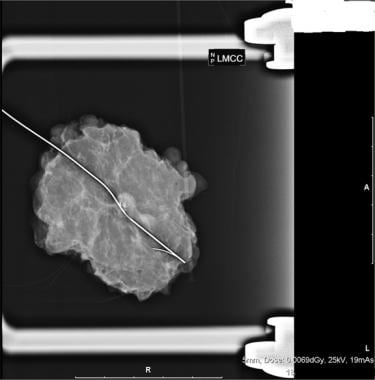 Lumpectomy. Radiograph to ensure complete excision after lumpectomy.
---
Did this answer your question?
Additional feedback? (Optional)
Thank you for your feedback!