Answer
A simple running (continuous) suture is essentially an uninterrupted series of simple interrupted sutures. The suture is started by placing a simple interrupted stitch, which is tied but not cut. A series of simple sutures are placed in succession, without the suture material being tied or cut after each pass. The sutures should be evenly spaced, and tension should be evenly distributed along the suture line.
The line of stitches is completed by tying a knot after the last pass at the end of the suture line. The knot is tied between the tail end of the suture material where it exits the wound and the loop of the last suture placed. (See the image below.)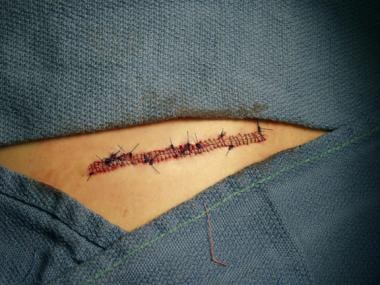 Running suture line.
---
Did this answer your question?
Additional feedback? (Optional)
Thank you for your feedback!