Answer
The chord length, or bite width, is the linear distance from the point of the curved needle to the swage (see the image below); the needle length is the distance measured along the needle from the point to the swage. The needle length, not the chord length, is the measurement supplied on suture packages. The radius, or bite depth, is the distance from the body of the needle to the center of the circle along which the needle curves; the diameter is considered the gauge or thickness of the needle wire.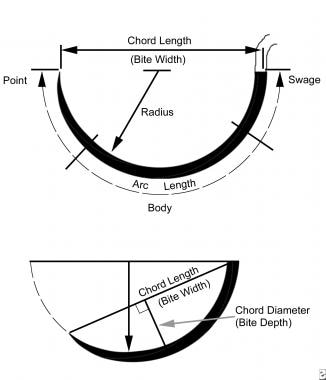 Anatomy of needle.
---
Did this answer your question?
Additional feedback? (Optional)
Thank you for your feedback!