Answer
Surgeons who use sutures and needles should wear sterile surgical gloves without cornstarch, which has been shown to promote wound infection, cause serious peritoneal adhesions and granulomatous peritonitis, and act as a well-documented vector of the latex allergy epidemic. In 2008, 13 health professionals filed a citizen's petition to the US Food and Drug Administration (FDA) to ban cornstarch powder on medical gloves. [21]
The FDA allows 1.5% of the surgical gloves to have holes, and these holes allow the transmission of blood and thus of potentially deadly bloodborne viral infections between patient and surgeon. After surgery has begun, a major cause of glove holes is surgical needle penetration through the glove. Consequently, the double-glove Biogel Puncture Indication System should be used to detect the location and presence of holes in the gloves, allowing the surgeon to change the gloves when a hole is detected (see the image below). [22]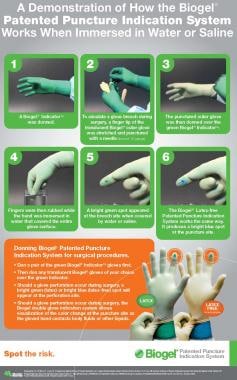 Poster for Biogel Puncture Indication System.
---
Did this answer your question?
Additional feedback? (Optional)
Thank you for your feedback!