Answer
The lung can be divided into 3 vertical zones with varying pressure changes (see image below). [37]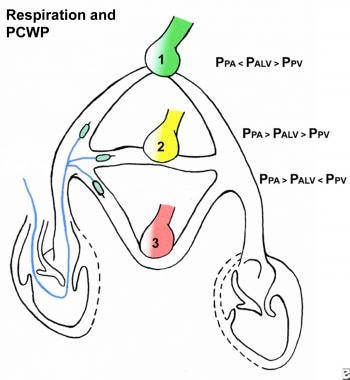 Physiologic lung zones. For pulmonary capillary wedge pressure (PCWP) to be reliable, the catheter tip must lie in zone 3. Pulmonary artery pressure (Ppa) is greater than pulmonary venous pressure (Ppv), which is greater than alveolar pressure (Palv) at end-expiration. In zones 1 and 2, Ppw reflects Palv if Palv is greater than Ppv. Redrawn from Principles of Critical Care by Jesse B. Hall, Gregory A. Schmidt, Lawrence D. H. Wood, 2000, McGraw-Hill, Inc.
In zone 1 (apex), alveolar pressure (Palv) exceeds both mean Ppa and pulmonary venous pressures (Ppv). Flow depends on Palv. In zone 2 (central), Ppa is greater than Palv, which is greater than Ppv, and flow depends on a balance between Ppa and Palv. Because capillary collapse is present, neither zone 1 nor zone 2 allows a direct connection with the LA. In zone 3 (lung bases), Palv is less than Ppa and Ppv. Flow is not interrupted, and a direct column of blood extends to the LA.
Fortunately, the actual practice of placing the tip in zone 3 to ensure more accurate measurements of LAP is not complicated. In the supine patient, most of the lung is considered zone 3. Blood flow to this area is increased, making balloon flotation easier. In critically ill patients who require positive end expiratory pressure (PEEP) levels greater than 10 cm H2 O, the zone 3 area can be reduced.
To assess proper location, a supine chest radiograph showing the tip below the level of the LA is sufficient, although occasionally a lateral chest radiograph is required. If the tip position remains questionable, blood can be aspirated from the distal port during balloon inflation.
---
Did this answer your question?
Additional feedback? (Optional)
Thank you for your feedback!