Answer
In the pulmonary artery pressure (Ppa) tracing, an initial positive upstroke secondary to RV systole occurs, and a dicrotic notch is formed on the downstroke when the pulmonary valve closes. A normal PA systolic pressure ranges from 20 to 30 mm Hg and is equal to the RV systolic pressure. Ppa is elevated in some high-flow states (eg, hypervolemia), left ventricular failure, and high-resistance states (eg, pulmonary hypertension, mitral valve disease) (see image below).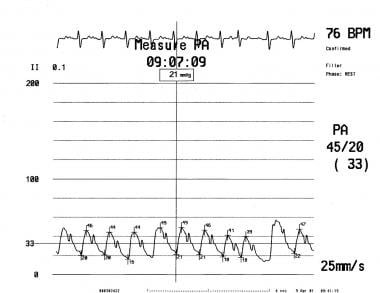 Pulmonary arterial pressure (Ppa) waveform.
---
Did this answer your question?
Additional feedback? (Optional)
Thank you for your feedback!